Course details
■ Kyushu taste aroma and Ara pot course! All 11 items Drinks attached 6480 yen → 6000 yen (tax included)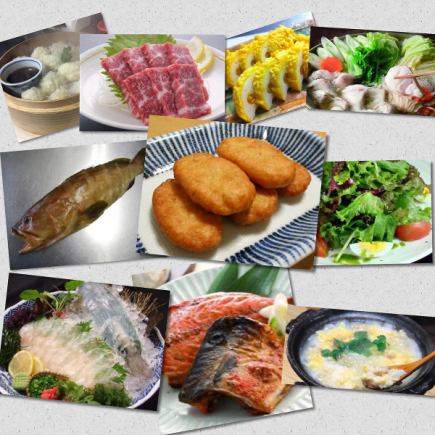 By using a coupon6000 yen
Price is tax included
All-you-can-drink available

120 minutes All you can drink and last order is 120 minutes
Available days for reservation

Monday - Sunday - Public holidays - Holidays
Recommended for parties with a large number of people! 120 minutes with a drink in a cozy place with a top-of-the-range saucepan, affordable course with popular Kyushu taste and a pan are the ultimate luxury in the set * + 1000 yen (including tax) our shop designated brand name Local sake, all 40 kinds of soju distilled spirits can be drunk!
Course menu
----- First fish 6000 yen course with drinks -----
■ Today's living construction (1)
By arrival, Yoriko's active founder
Of course, even after-sales service
■ Today's lively building Stuffing (2)
Active shimaji making, or active flounder making
Please enjoy lively activity
■ Tsushima boiled Confucius
It finished in plump juicy
We also have a sweet special sauce.
■ Seasonal salad
Season meat dish
Miyazaki specialties, grilled chicken, grilled chicken meat juicy
■ Grilled Anno potato or mentaiko egg yaki
■ High class! Ala pan
■ Seafood Steamed Shumai
Steamed popular squid, crab shumai in a steamed basket
Please enjoy fluffy, mochi mochi texture
■ Deep frying
One of the local cuisines of Kagoshima
It is a proud product that uses only fine white fish
■ Shikotsu lotus root
Familiar Kumamoto specialty!
The deliciousness unique to handmade at our shop is exceptional
■ Rice
■ Dessert
※ + 1000 yen (tax included) our locally designated brewer, all 40 kinds of soju distilled spirits drinks!
Examples of local sake: Hakkai-yama, Kubota, Seki of the west, Sakurakura collection, bunsetsu etc ...
Examples of ground distilled spirits: Fuzo Baoshan, Red Kirishima, Mt. Kan, Mt. Kanamoto, mountain cicadas, wildcats, etc ...
☆ For more information to the staff!
※ Since contents change every month, please contact directly to the shop for details.
-------------------------
All-you-can-drink menu
· All you can drink
· Draft beer (Asahi Super Dry), Bottle Beer (Asahi Super Dry), Sake, Shochu (Potato, Wheat, Rice), Plum wine, Chinese Sake, Shochu (Calpis, Orange, Lemon, Lime, Grape), Wine (Red, White ), Cocktail (20 kinds), soft drink (5 kinds)
· Local sake · ground distilled spirit
· ※ + 1000 yen (including tax), our locally designated breweries, all kinds of drinking ground drinks as well as all 40 kinds of local distilled spirits! Local sake examples: Hachihama, Kubota, Seki Seishin, Sakurakuza, Yuza, etc. ... Shochu example: Red Kirishima, Mt. Mitake, Kanpachi, mountain cicadas, wildcats, etc ... etc ...
Coupons that can be used with this course
2018/12/13 update