Course details
■ Selectable active ingredient piercing Sakari and Kyushu taste course course! 2 H with 12 Hours 【12 drinks】 5400 yen → 5000 yen (tax included)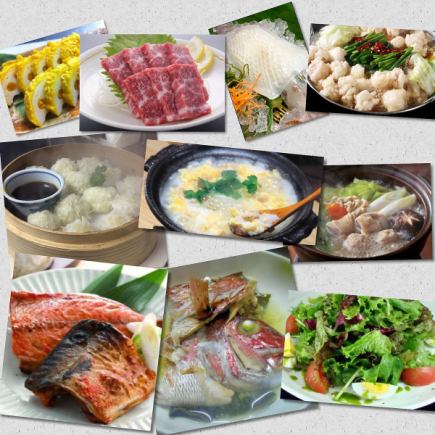 By using a coupon5000 Yen
The price is tax included.
All-you-can-drink available

120 minutes All-you-can-drink All-you-can-drink last is 120 minutes.
Available days for reservation

Monday - Sunday - Public holidays - Holidays
Regional cuisine representative of Kyushu is a lively collection, as well as cooked eggs and pots! Even the taste and volume are all satisfactory It is the course with the highest repeat rate
Course menu
----- First fish 5000 yen course with drinks -----
■ Today's living construction (1)
By arrival, Yoriko's active founder
Of course, even after-sales service
■ Today's lively building Stuffing (2)
Active shimaji making, or active flounder making
Please enjoy lively activity
■ Tsushima boiled Confucius
It finished in plump juicy
Also a sweet special sauce
■ Seasonal salad
Season meat dish
Miyazaki specialty
Baked chicken, cook juicy thigh meat roasted well
■ Mentaiko Egg-grilled or Anno potato foil butter
■ Main choice
Hakata cooked chicken taste is condensed in white cloud soup! Homemade garbage also
Speaking of Tadashi Hakata is a popular soup popular all year round
Special saucepan pot - one of the pots that represent Kyushu.It is famous for wrestlers to eat at Kyushu location
■ One dish from Kyushu's local cuisine
Popular seafood shamai, boiled fish etc.
By purchase of the day
■ Deep frying
One of the local cuisines of Kagoshima
It is one dish that boasts using fine white fish
■ Shikotsu lotus root
Familiar Kumamoto specialty!
The deliciousness unique to handmade at our shop is exceptional
■ Rice
In a pot having a pot, Chumpon noodles
■ Dessert
Seasonal sweetness
※ + 1000 yen (tax included) our locally designated brewer, all 40 kinds of soju distilled spirits drinks!
Examples of local sake: Hakkai-yama, Kubota, Seki of the west, Sakurakura collection, bunsetsu etc ...
Examples of ground distilled spirits: Fuzo Baoshan, Red Kirishima, Mt. Kan, Mt. Kanamoto, mountain cicadas, wildcats, etc ...
☆ For more information to the staff!
※ Since contents change every month, please contact directly to the shop for details.
-------------------------
All-you-can-drink menu
· All you can drink
· Wine (red, white), cocktail (20 varieties), wine (red, white), raw wine, beer beer (Asahi), sake, shochu (potato, wheat, rice), plum wine, , Soft drink (5 kinds)
· Local sake · ground distilled spirit
· ※ + 1000 yen (including tax), our locally designated breweries, all kinds of drinking ground drinks as well as all 40 kinds of local distilled spirits! Local sake examples: Hachihama, Kubota, Seki Seishin, Sakurakuza, Yuza, etc. ... Shochu example: Red Kirishima, Mt. Mitake, Kanpachi, mountain cicadas, wildcats, etc ... etc ...
2019/01/08 update